Low-cost spay/neuter programs!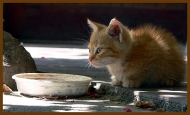 The Foundation offers a low-cost spay/neuter program for cats and kittens at a veterinary clinic in Morton every week. Owners bring their cats to the veterinary clinic in Morton in the morning and pick them up in the afternoon. In addition, the Foundation transports cats from locations in Peoria to the clinic in Morton for the spay/neuter program. The cost for the program is $30 for males, $40 for females, and $10 for a rabies shot if the cat is not currently vaccinated. For 5 ½ years, the Foundation also had a program in which it transported feral cats (wild cats that cannot be handled) to the Animal Protective League in Springfield but currently refers people needing to spay or neuter feral cats to other groups doing transports. Call for referrals.
PAWS reports that every year since the start of our programs, PAWS has euthanized 50% fewer cats as compared to previous steady rates. PAWS administrators believe that our programs have played a big role in decreasing the number of cats surrendered to the shelter. The Foundation has spayed and neutered more than 10,000 cats and kittens so far.
The spay/neuter programs have been made possible in part by grants from the Jean M. Ligon Fund of the Community Foundation of Central Illinois and by the Rex and Nelle Jackson Foundation.
Call (309) 360-7455 or e-mail us at purrsonalities4peoria@yahoo.com for information or to schedule your cat or kitten today! Save lives by spaying and neutering your cats.
Please donate today and help fund the low-cost spay/neuter programs. We have put plans to build a sanctuary on hold. However, the spay/neuter programs are filling a great need in this area and are allowing cats to find and retain homes every day.
Browse through our web site to see all of the exciting opportunities to help.
Published Articles: