Low-cost spay/neuter programs!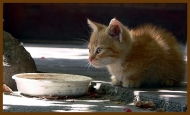 The Foundation offers a low-cost spay/neuter program for cats and kittens at a veterinary clinic in Morton every week. Owners bring their cats to the veterinary clinic in Morton in the morning and pick them up in the afternoon. The cost is $30 to neuter males, $40 to spay females, and $10 for a rabies shot if they have not had one that is current. Currently, the Foundation refers people needing to spay or neuter feral cats to local programs for ferals. The Foundation has spayed and neutered close to 15,000 cats and kittens to date.
Call 309-360-7455 or email us at purrsonalities4peoria@yahoo.com for information or to schedule your cat or kitten today! Save lives by spaying and neutering your cats.
Please donate today and help fund the low-cost spay/neuter programs. We have put plans to build a cat sanctuary on hold but work regularly with local rescue groups to spay and neuter their cats. Our spay/neuter programs are filling a great need in this area and are allowing cats to find and retain homes every day.
Browse through our web site to see all of the exciting opportunities to help.
Published Articles: